When I was younger, my mom would always scold me for consuming large doses of entertainment. Mama would always yell at me, in her middle-pitched yet soothing voice: "Nagmiminalanga ka na liwat hito na mga mulay!" (You are re distracted by those video games again!) And, well… I do admit.
I am kind of at fault for not following up on her errands…
Anyway, I can do long afternoon dates with my computer screen just looking at random videos on YouTube, pretty much almost anything my highly curious brain will direct me to. And yes, my YouTube search history is clean!
I also USED TO do long and strenuous gaming sessions that may stretch from 6 to 12 hours a day, trying to grind rank points for my most beloved-hated e-sports titles: Valorant, Counter-Strike, and League of Legends in this matter.
In recent months, my rank points grind has shifted to hours and hours of unknowingly consuming memes on Facebook, Twitter, Youtube, and even TikTok. Although, to be fair, social media memes have been quite the lifesaver during this pandemic –because, let's face it, this 400+ days in quarantine is quite taxing.
In fact, it should be enough for us to make a Mark Webb rip-off entitled "500 Days of Quarantine", but this time just a love-hate relationship with the virus.
Moving on.
A friend of mine messaged me personally, thanking me for spamming the share button and for basically being a Facebook Comedian (I wish I was paid for this.) In my search for my serotonin-inducing-meme-shots, I came across this TikTok video on Facebook of what seemed to be a Filipina Mother guessing artist names. They called this series: "Name that Celebrity".
In the video, you see Olly challenging Mama Lulu to guess the names of the celebrities flashed on the green screen. What makes these videos entertaining is how Mama Lulu is genuinely clueless about who these people are.
Right off the bat, Mama Lulu thinks Post Malone is Justin Bieber. Paired with Olly's contagious laugh, the videos captivated their audiences –especially Filipinos on TikTok. More than the genuine, entertaining cluelessness Mama Lulu exhibited, I do think one of the biggest reasons why a lot of Filipinos, in general, are attracted to the channel.
It is because they can relate to how a "Filipino Mom" works through specific nuances that Mama Lulu is showing in the videos. In fact, a chunk of the content revolves around how Mama Lulu reacts to various situations –which, interestingly, happens to bring out the "Nanayness" (as I would like to call it) in her.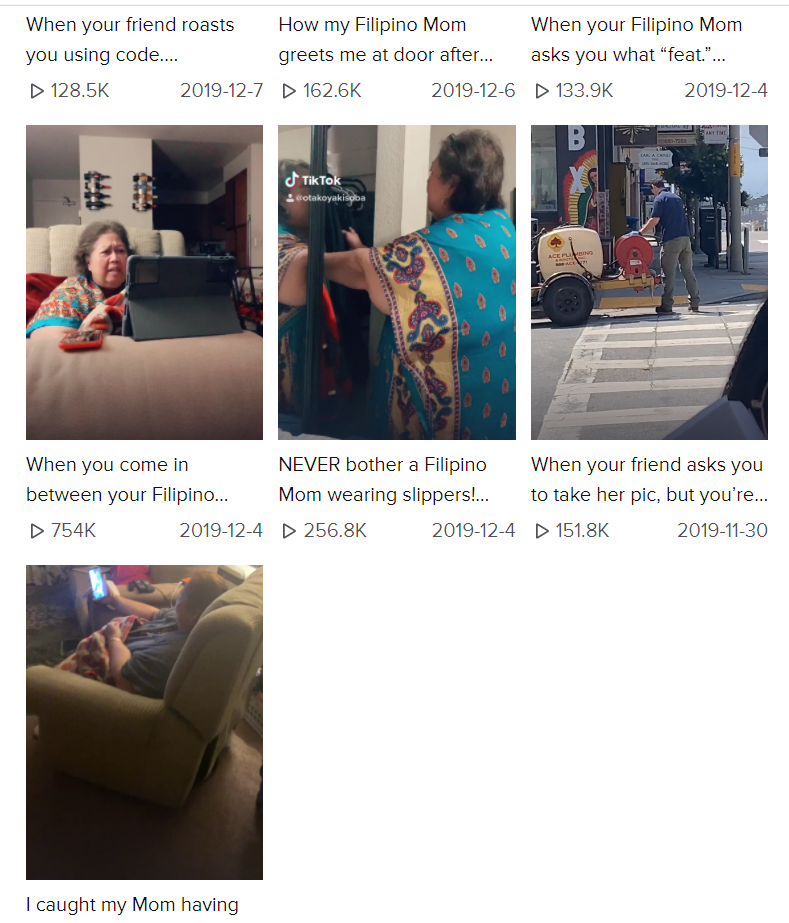 The photo exhibits how the titles clearly market Mama Lulu as the main character of this TikTok page as early as their first videos back in 2019.
Mama Lulu's image resonates with that of a Filipina Mother. In most of her TikTok Videos, she wears dusters of varying floral or bohemian designs. In the Philippines, our culture has automatically associated and connected "dusters" to mothers. It is no doubt that whenever we would come home after a long day at school, or we would be home for the weekend, or we would visit a friend's house to play video games.
It is almost always the case that our mothers or titas (and even grandmothers) wore dusters with floral designs while cleaning through the house, doing chores, or doing take home assignments from their respective workplaces.
Dusters have served our mothers well. Apart from the fact that they are easy to wear, they are also very comfortable. Dusters are super suits. (Yes. Like Frozone's super suit.) Their home clothes allow them to do a range of movements and tasks.
I personally think that the mere fact that they can achieve a plethora of tasks is that, it makes them super humans, despite the patriarchal expectations and pressures these women are facing. Indeed, not all heroes wear capes.
Mama Lulu also exhibits another interesting behavior that a lot of Filipina moms have. The capability to cook authentic Filipino cuisine. There is a reason why we would feel heavier every time we would go home for the holidays –it's because our mothers and grandmothers cook the best home-cooked food. It is one of the main things we always look forward to. In the channel, we see Mama Lulu and Olly preparing different Filipino dishes in separate videos.
In this specific video, Mama Lulu prepares everyone's favorite finger food during fiestas – Lumpia Filipino-Style Springrolls (which sometimes, miraculously ends up in our pockets. Just kidding!)
In this video, we also have a fan favorite. The Adobo.
In this video, we have Chicken Tinola which our grandmothers serve to us when it's cold or when we're sick.
In this video, we have Pancit Bihon which our mothers serve to us during celebrations!
The videos links are among the few Filipino dishes featured in the channel. Every Filipino household will have its version of these dishes. Indeed, one of the best ways to show love and affection is through the stomach.
Filipina Mothers are among the frankest people in the household. They are the very definition of "no filter." There is a reason why they are called ilaw ng tahanan (light of the home) and there is a reason why the quote "Mothers know best" applies here in the Philippines.
Filipina Mothers just have very keen eyes. They know their offspring from head to toe. This is one of the reasons why they seem to have this very "aggressive" disposition at times. It goes without saying that we grew up getting called names (like bobo or stupid) dissed, roasted by our own mothers. One of the most famous lines our mothers tell us is: "Papunta ka pa lang, pabalik na ako." (Been there, done that) Tough love indeed. But this tough disposition is, without a doubt, out of the concern and genuine love. Our mothers want us to be the best versions of ourselves. They would push us to be very holistic people who know how to do dishes, and at the same time, know how to put food on the table –basically responsible human beings. Though at times, this may be of extreme and abusive forms.
In this entry, Mama Lulu roasts Olly's fashion style. No doubt, at one point in our household lives, our clothing choices have been roasted by our parents. Very Filipino.
In this entry, Mama Lulu shows the different Filipina Mom sayings and spoiler: they are not pleasant to the ears. At one point in our lives, we have received comments such as bobo ka (you're stupid!) from our parents.
It may have scarred us for life, but it has at one point pushed us to do more than what we think we are capable of. Mama Lulu has her own version of this: "you eedjiot!" And this phrase has been said on many occasions in the channel. Interestingly, while the words sound volatile, I personally feel a little bit of endearment behind the phrase.
Our mothers (may it be by blood or by bond) have heavily influenced us as people and I think they do deserve a lot of credit for the sacrifices they have gone through, and I am pretty sure many of which we are not aware of.
Mother's Day is right around the corner, and I do think this is a good opportunity for us to show them our affection as children. Happy Mother's Day!
Pierre Dann Ampo is a musician, theater actor, and LFS Consulting contributor.
References:
Contreras R. "This Pinay Mom's Viral TikToks With Her Son Will Give You The ~*Good Vibes*~ We All Need."Cosmopolitan Philippines. https://www.cosmo.ph/entertainment/mama-lulu-olly-viral-tiktoks-name-that-celebrity-otakoyakisoba-a1027-20200512
https://www.tiktok.com/@otakoyakisoba
Read more about Entertainment on LFS Consulting.