As promised, here are ways to put your brand in the Instagram spotlight:
Post Consistently
This includes posting at consistent times of the day and understanding when the "peak" hours are. This helps you reach the maximum possible audience and help your audiences expect content drops from your page. These posts also need consistent aesthetics. Every brand may have target audiences as you do, so you need to determine some industry trends in your brand. Does your field favor aggressive and solid colors? Chic designs? Grey colors? A very engaging aesthetic encourages your audiences to interact and comment with your posts! Make sure to maximize Instagram's visual features!
Add Emojis
According to Social Media Examiner (2016), adding emojis boosts your discoverability. Not only can the users discover posts containing emojis (like the hashtags), but they may also find your brands. In an example given by the site, simply putting the camera emoji in your profile may lead them to you.
Utilize Instagram Stories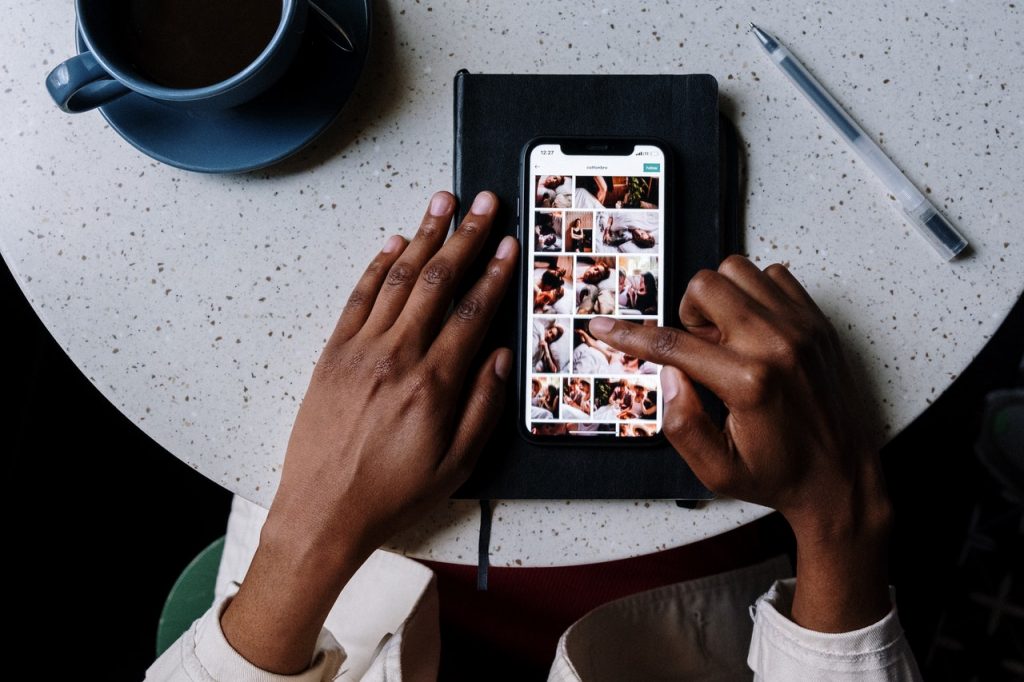 According to Oberlo, more than 500 million people use Instagram stories daily. Instagram stories are a great way to establish a somewhat personalized connection with your audiences –especially if you effectively tell stories through proper curation and pleasing aesthetics!
Use the proper captions and hashtags
Now captions can be of personal taste and industry trends. Some influencers love being very minimalist, and some love doing extended captions. These methods may vary, so there is no harm in experimenting! On top of the captions, hashtags are a great way to broaden your reach and gain more followers. So having a good caption and a good hashtag is like a one-two punch combo!
Do contests and giveaways
This may be the riskiest of all the options listed here because this will involve a bit of investment, but, as Oblero mentioned, "people love free stuff!" This is one sure way to boost your audience engagement since these giveaways also include sharing and tagging people. Giveaways also help you gain authenticity towards your audiences, ESPECIALLY when your audiences post about their winnings!
Do cross-platform engagements
The beauty of social media today is one's capability to share content across the platform. Instagram allows you to connect to various applications such as Facebook, TikTok, and Twitter. You may do this by linking your Instagram page through your emails, Facebook profile, TikTok profile, and even your discord profile (if you are into that!) This helps you reach a broader audience outside of Instagram.
If you want to have raw data, be sure to do the calculations and study your posts. If you happen to have one successful post, calculate and ask why it was successful. Did it have a pleasing aesthetic? What kind of caption did the post have? What was the nature of my post? How did I engage with the people through this post? Instagram engagement—albeit a slightly challenging road—is enjoyable, especially when you start gaining followers. It is like seeing your plant slowly grow after watering it with love!
References:
Jipa, A. (2018). 12 Ways to Boost Your Instagram Presence. SocialMediaToday. https://www.socialmediatoday.com/news/12-ways-to-boost-your-instagram-presence/516037/?fbclid=IwAR304BclNGNh54CVWOk6jF9WvCPHLJTt2V4K271J0TGV8xu9Y4ErExKrNlI
Phillips, A. (2021). 23 Ways to Easily Increase Instagram Engagement in 2021. Falcon. https://www.falcon.io/insights-hub/topics/social-media-strategy/21-tips-increase-instagram-engagement/
Roach, A. (2020). Instagram Engagement: What is and How to Improve it. Oberlo. https://www.oberlo.com/blog/instagram-engagement-improve
Mohsin, M. (2021). 10 Instagram Stats Every Marketer Should Know in 2021 (Infographic). Oberlo. https://www.oberlo.com/blog/instagram-stats-every-marketer-should-know#1_How_Many_People_Use_Instagram
Facebook IQ (2019). How Instagram Boosts Brands and Drives Sales. Facebook. https://web.facebook.com/business/news/insights/how-instagram-boosts-brands-and-drives-sales?_rdc=1&_rdr
Buryan, M. (2018). Instagram Engagement: Everything You Need to Know (Exclusive Stats). Socialbakers. https://www.socialbakers.com/blog/instagram-engagement
Rene, C. (2020). Instagram Engagement Report 2020: What We Learned from 48+ Million Posts. Mention https://mention.com/en/blog/instagram-engagement/
Read, A. (n.d.). 12 Tactics for Instagram Growth. Buffer. https://buffer.com/library/instagram-growth/#11-link-to-your-instagram-from-elsewhere
McCoy, J. (2016). 10 Ways to Grow an Organic Instagram Presence. https://www.socialmediaexaminer.com/10-ways-to-grow-an-organic-instagram-presence/.
Social Media Examiner. https://www.socialmediaexaminer.com/10-ways-to-grow-an-organic-instagram-presence/
Barnhart, B. (2021). 15 Tips to Building a Better Social Media Presence. Sprout Social. https://sproutsocial.com/insights/building-social-media-presence/
n.a. (n.d.) Instagram. Wikipedia. https://en.wikipedia.org/wiki/Instagram
Blystone, D. (2020). The Story of Instagram: The Rise of the #1 Photo-sharing Application. Investopedia. https://www.investopedia.com/articles/investing/102615/story-instagram-rise-1-photo0sharing-app.asp
Trait, A. (2020). How Instagram Changed our World. The Guardian. https://www.theguardian.com/technology/2020/may/03/how-instagram-changed-our-world
Read more about Marketing on LFS Consulting.