You did it! Congratulations! You have set a very important milestone in your life by successfully trekking through the mountains of papers, modules, and readings in college. Your efforts and hard work have put you in a very favorable position of being able to earn money. Finally, your reason may vary from wanting to set foot in different countries worldwide to fulfilling family duties and placing food on the table. Jobs have always provided us with the financial foundations in meeting both our needs and wants—both short and long-term. With competition being very tight, especially this pandemic, you may ask: What do I need to do to increase my chances of getting hired? In this two-part series, we will teach you how to set your best foot forward (the cover letter) and prove why you deserve the job (the resume.)
What is a cover letter?
According to Glassdoor (n.d.), it is a document you submit with your resume. The document serves as a professional introduction to the desired employer/s. According to Michael Page (n.d.), the cover letter allows the applicant to make a good impression in the company. In the same article, Michael Page mentions that: "Research suggests that employers favor resumes that are accompanied by a cover letter, making it a critical component of your job-search strategy." Meanwhile, Harvard mentions that putting your best foot forward increases your chances of getting hired by briefly highlighting your competencies that apply to the job.
In Harvard's Undergraduate Resource Series, they have broken down the portions of the cover letter: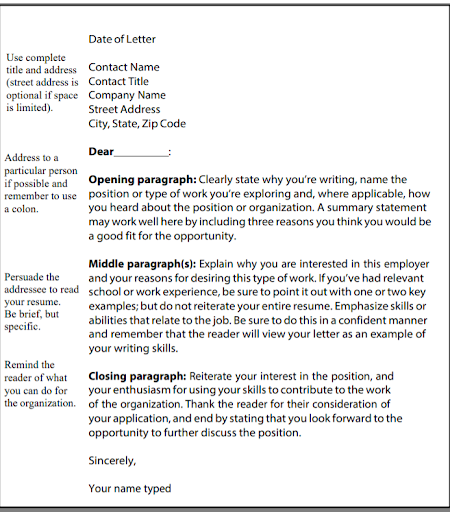 When going through the format, Harvard also noted that if possible, address the letters to specific people in the company (as prescribed by the Human Resources Department, which can be done through research.) The cover letter needs to be concise and factual and must be limited to only 1 page. According to ASA College (2019), "A cover letter should take no more than a page, getting to the point in a cheerful yet professional manner, expressing confidence without bragging. Have someone in your field proofread it to ensure that it is both error-free and appropriate for your profession." Being cheerful and professional also means utilizing action words more than abusing the pronoun "I." Lastly, the cover letter and the resume must be of consistent font style and font size.
Here's a sample cover letter taken from Glassdoor that exhibits what Harvard has suggested: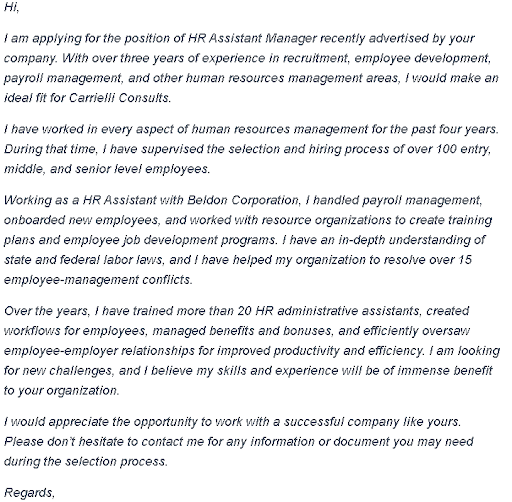 In a follow-up article, we will cover how you can make an effective resume to land your first job!
References:
OCS. (n.d.) "Resumes and Cover Letters." Harvard University. https://ocs.fas.harvard.edu/files/ocs/files/undergrad_resumes_and_cover_letters.pdf?m=1598037165
n.a. (n.d.). "How Important is a Cover Letter?" Michael Page. https://www.michaelpage.com/advice/career-advice/cover-letter-and-resume-advice/how-important-cover-letter
n.a. (2019). Why Cover Letters Are Important. ASA College. https://miami.asa.edu/about-asa/news/important-cover-letter-essential/Glassdoor Team. (n.d.) Importance of Cover Letters for Job Success. Glassdoor. https://www.glassdoor.com/blog/guide/importance-of-cover-letter/
Read more about Business on LFS Consulting.