You just finished a long stretch of emails, tasks, and errands this week, both from your virtual assistant ventures and from your house duties. It was indeed a long week, and you feel the need to take it easy…just this once.
I suppose a cheat day of some sort involves you being in a tug-of-war with your thoughts on what to do. See, before the pandemic, you would usually go out and hang out with your friends, roam around the mall, maybe play some games at TimeZone or Tom's World, or perhaps just go out for a drinking night out with your besties in a local club or open mic area.
Apparently, times have changed since, and it has become riskier to do such activities with the pandemic going on…
So, you ask: "Then, what should I do?" Let me help you decide what to do.
Studio Ghibli makes the best films
If you are a fan of Japanese animation or just animation in general, you may have heard of Studio Ghibli. Studio Ghibli is a Japanese animation studio known for its breathtaking and fresh films that exhibit themes not shown in mainstream western movies. An excellent example of this is the film's philosophical take and showcase of impermanence.
In Japanese culture, this is known as mono no aware – literally translated as Love of Ephemera. The studio, since its establishment, had won various awards, including the Academy Award back in 2003.
So, if you want films with very beautiful old-school aesthetics, existential themes that will leave you wondering about life for 1 week, or films that offer a fresh breath of air from your typical Filipino Rom-Coms, Western mystic themes, then I would suggest you the following films:
Important note: most of the films in this short selection are audience-friendly. So, open discord, zoom or google meet and watch these films with your friends and family. This may also be a good follow-up date with your mother in line with Mother's Day!
Top 3 Ghibli films to check on your free time
If you are bored with your typical rom-com settings, or if you want to feel that existential kilig, I would like to suggest the following films:
1. Whisper of the Heart (1995), Yoshifumi Kondo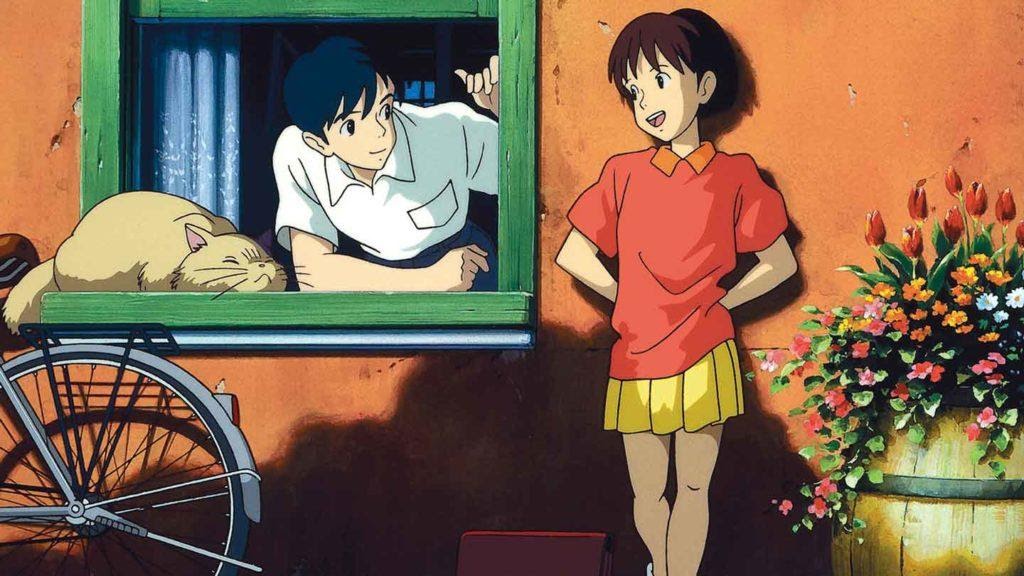 One of the best romance films out there, in my honest opinion. The film's take on love transcends beyond the touchy-touchy and kissy-kissy nature a lot of films bank into these days.
Synopsis: Whisper of the Heart is a love story between two young Japanese middle-schoolers. It is about a girl who loves books, along with a boy who also happened to have borrowed the same books as her in their school library.
Shizuku's curiosity eventually made her meet this person. After hanging out and "clicking", they both pursue their dreams…
2. Ocean Waves (1993) Tomomi Mochizuki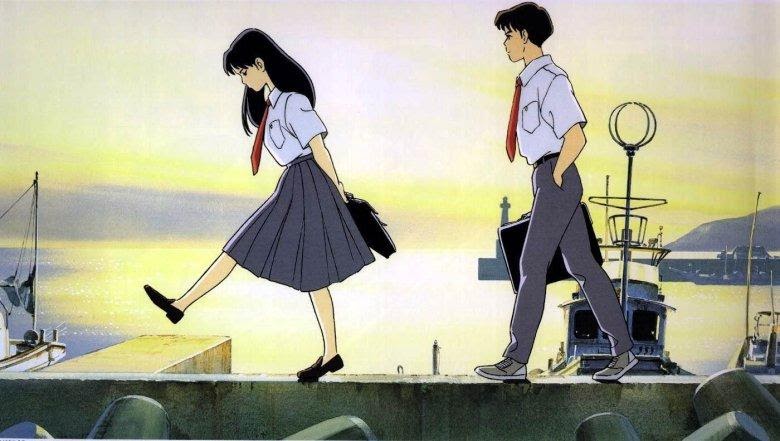 Have you ever come across your high school crush on a random afternoon in a busy area, workplace, street, or mall? I am pretty sure the experience reminded you of the cringy pick-up lines you threw/received.
If you are looking for a film that may help you remember your young high-school love, then this film exactly does that! Ocean Waves mainly banks on the idea of how the-ever-turbulent adolescent love works, in a flashback style the film utilized.
Synopsis: "Nostalgic even in its own time, this sweet little story begins with a young man named Taku standing on a Tokyo train platform and glimpsing a familiar face across the tracks. She's swallowed by the crowd almost as soon he sees her, the girl blinking in and out of sight so fast that our dumbstruck hero can't tell if he's actually crossed paths with his teenage crush or if he's just been a victim of his own wishful thinking.
Her name is Rikaku, and Taku met her when he was growing up in the beachside city of Kōchi. Alas, Taku's best friend, Yutaka, met her first. And so the stage is set for a classic love triangle, told in flashback, governed by the emotional stupidity of adolescence and paced with the unevenness of memory. Nothing much really happens, but the film uses its framing device well, and it isn't afraid to be governed by the irrational impulses of teenage logic." (Ehrlich, 2016)
If you are looking for a Ghibli film that will make you cry a river, then you must watch the following:
Note: Ready up your tissue boxes!
3. Grave of the Fireflies (1988), Isao Takahata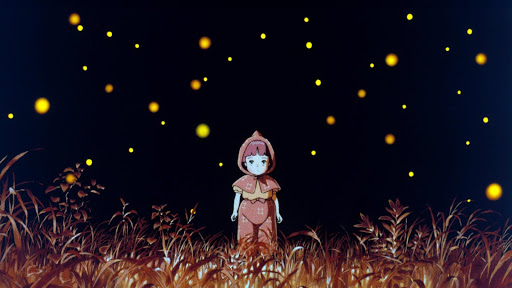 Compared to Whisper of the Heart's light romantic themes, or Spirited Away's adventurous exploration of Japanese Mythology, Grave of the Fireflies, directed by Isao Takahata, is perhaps one of the most realistic Ghibli Films ever produced.
The film, based on a semi-autobiography, is a depiction of the ravages of the Second World War. In contrast to the West's depiction of this historical event, this is a story of an Allied forces soldier who stormed through the beaches to shoot soldiers of the Axis power.
In addition, the film takes on the perspective of the people who are not directly fighting in the front lines –precisely two children who are trying to survive the aftermath of the war.
Synopsis: "The movie flashes back to events of earlier months when the duo was still alive. Separated from their mother after an American bombing raid on Kobe, the pair spend their last days fending for themselves in a wasteland where no adult help is forthcoming. As much as they struggle, they remain beautifully and sometimes humorously childlike." (Kenny, 2019)
Pierre Dann Ampo is a musician, theater actor, and LFS Consulting contributor.
References:
Kenny, G. "'Grave of the Fireflies' Review: A Pioneering Animated Classic". New York Times. https://www.nytimes.com/2019/01/03/movies/grave-of-the-fireflies-review.html
Wikipedia. "Grave of the Fireflies." https://en.wikipedia.org/wiki/Grave_of_the_Fireflies
Suggula, A. "Review: Whisper of the Heart (Japan, 1995)" Cinema Escapist. https://www.cinemaescapist.com/2014/11/whisper-of-the-heart/
Elrich, D. "'Ocean Waves' Review: This Forgotten Studio Ghibli Classic Is Newly Restored And Better Than Ever." Indie Wire. https://www.indiewire.com/2016/12/ocean-waves-review-studio-ghibli-anime-1201762883/
Wikipedia. "Ocean Waves." https://en.wikipedia.org/wiki/Ocean_Waves_(film)
Imbd. "Whisper of the Heart." https://www.imdb.com/title/tt0113824/?ref_=tt_urv
Robinson, T. "Welcome to Polygon's Studio Ghibli Week." Polygon. https://www.polygon.com/animation-cartoons/2020/5/25/21269129/studio-ghibli-movies-hayao-miyazaki-isao-takahata
Ashfar, D. "What Is Mono No Aware, the Japanese Love for Impermanence?" Culture Trip. https://theculturetrip.com/asia/japan/articles/what-is-mono-no-aware-the-japanese-love-for-impermanence/
Wikipedia. "Mono no Aware." https://en.wikipedia.org/wiki/Mono_no_aware
Wikipedia. "Studio Ghibli." https://en.wikipedia.org/wiki/Studio_Ghibli
Read more about Entertainment on LFS Consulting.